December 26, 2019
Borla Performance Industries pride themselves as pioneers and leaders in the design and manufacturing of stainless steel performance exhaust systems. With over 4 decades of experience, they are backed with knowledge and experience. Innovation is key in the automotive market. Borla has pioneered a large variety of improvements in the design of performance exhaust systems. They currently hold many US patents for their innovative exhaust system technology. Furthermore, they have won numerous "Best New Product" awards in the industry.
Quality
Borla is committed to providing world-class exhaust products. Their goal is to surpass the expectations of their customers.
Every Borla Cat-Back system, Header and Axle-Back is made from austenitic stainless steel. This steel is superior to the standard 409 or aluminized steel that many competitors use. Austenitic steels are non-magnetic stainless steels that contain high levels of chromium and nickel and low levels of carbon. This type of steel features increased formability and resistance to corrosion. Furthermore, each Borla system features mandrel-bent tubing, and all-welded construction. This design allows for accurate fit and easy installation.
Lastly, each facility is complete with state-of-the art testing and development centers. These centers help improve and maintain the efficiency and high standards Borla is known for.
Performance
Performance is always the main reason behind our upgrading our vehicle. With each upgrade want to gain more horsepower & torque. Additionally upgrades can help our performance parts run more efficiently.
The performance advantages of a Borla Exhaust are widely recognized. Top engine builders in the racing industry rely on Borla for maximum performance. Their full line of patented, award and race-winning race mufflers not only maintain a race engines power, but in some instances add power. This same technology is incorporated into exhaust systems for the street. You can expect an average increase of 7-10 horsepower and torque with a Borla Exhaust. Additionally you can expect improved gas mileage at cruising speeds.
Sound
Borla offers performance exhaust systems with a variety of sound levels to ensure your experience fits your specific needs. Not to mention, each aftermarket exhaust comes with the maximum horsepower and torque available throughout the entire RPM range.
With their patented XR-1® technology present in their ATAK®, S-Type, and Touring systems, customers can pick the sound level desired with the confidence that their aftermarket exhaust system will increase power to the greatest degree.
Diversity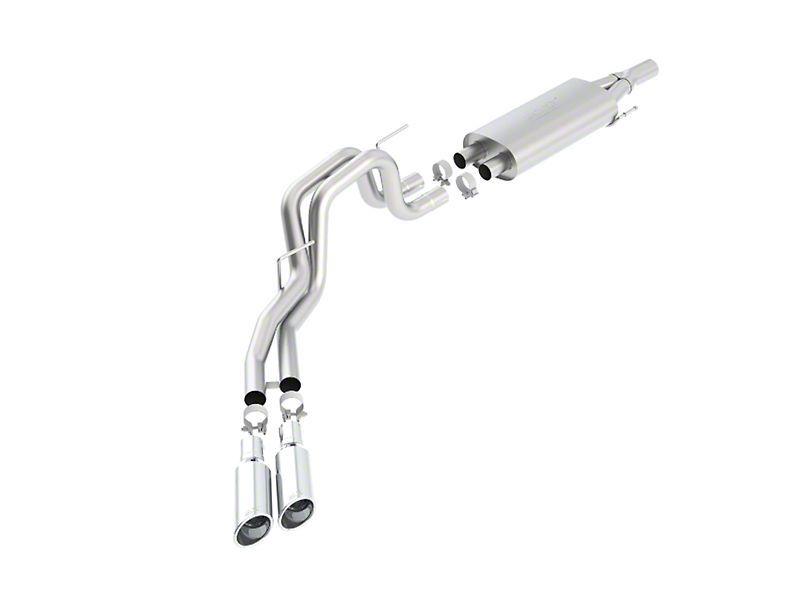 We carry a full line of Borla exhaust systems.  Whether it's a performance exhaust system for a Corvette, Mustang, Camaro, Porsche, BMW, Volkswagen, Audi, Jeep, F-150, Silverado, RAM, Subaru, Mini Cooper, Challenger, Charger, Scion, Toyota, Kia, Infiniti, Nissan, Honda, plus many more; you can be sure each system has been catered to the year, make and model of your specific vehicle.
Additionally, Borla also has a large line of complete Cat-Back Exhaust systems, Axel-Back Systems, Polished Tips, and Mufflers.
Final Words
With over 4 decades of experience, high quality products, and a diverse catalog, its no wonder Borla is preferred by so many in the automotive industry. If that isn't enough for you to choose Borla, then their million-mile warranty might be enough to seal the deal. That's 20,000 miles/year for 50 years! This warranty is valid for only the original purchaser of record and for the original vehicle on which the product was installed. More information about their impressive warranty can be found here.