January 16, 2020
EXEDY is a world leader in producing a high-quality lightweight flywheel. Their pursuit of perfection & commitment to safety underlie their famed quality and reliability.  Additionally, their advanced engineering and patented innovations have helped make them a leading manufacturer in lightweight flywheels, and other powertrain components.
Lightweight Flywheels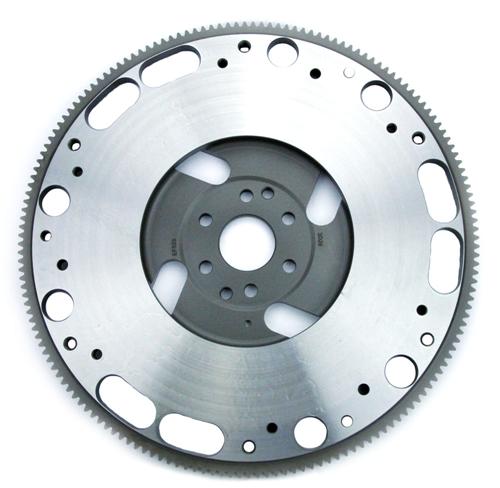 EXEDY Lightweight Flywheels combine low weight, low inertia, and high thermal capacity.  They are produced from a solid one-piece billet chromoly steel, or chromoly steel forgings.  These flywheels are specifically designed to reduce weight and inertia for better engine response. Furthermore, many lightweight flywheels by EXEDY incorporate special design features to enhance the airflow which helps improve cooling of the clutch.
Furthermore, when choosing an EXEDY lightweight flywheel, your ring gear teeth are integrated onto the flywheel, unlike aluminum flywheels.  This eliminates the possibility of the ring gear coming apart at speed, which as a result would cause massive damage. Aluminum flywheels have the ring gear is pressed onto the flywheel and has the possibility of separating due to different expansion coefficients of aluminum and steel.
Newly available are lightweight, solid replacements for vehicles fitted with OE dual mass flywheels. EXEDY lightweight flywheels have passed engineering tests to 15,000-18,000 RPM. They are guaranteed not to fail to the said RPM, and are all SFI approved.
Chromoly Steel
All EXEDY Lightweight flywheels are made from either forged or billet chromoly steel. Chromoly is an abbreviation for "chromium-molybdenum steel" due to it's property of incorporating alloy elements chromium and molybdenum. This combination of materials allow for excellent strength to weight ratio. Furthermore it is considerably stronger and harder than standard 1020 steel or other aluminum flywheels on the market.
SFI Approved
The SFI Specification establishes uniform test procedures and minimum standards for evaluating and determining performance capabilities specifically for replacement flywheels used by individuals engaged in competitive motorsports. All EXEDY chromoly Lightweight Flywheels will meet or exceed these standards.

Final Words
Removing weight from the flywheel will improve your acceleration and throttle response, more readily than any other single modification.  Furthermore, reduction rotational inertia will improve critical throttle response. This is especially important for road racing, rallying and auto-crossing. If this improved performance is something your looking for out of your vehicle then EXEDY is a great manufacturer to purchase from.  With decades of experience, and innovate technology, you won't be disappointed with your choice.