January 30, 2020
Who is NRG?
Founded in 2003, NRG Innovations has been provided automotive enthusiast with a number of beneficial products.  Being enthusiast owned and operated, they pride themselves on being "in tune" with todays automotive industry. They are continuously active in todays scene by attending races, shows, meets, and even hold their very own Annual Drift Matsuri Event. 
Their name says it all, innovation – meaning they are constantly bringing you new styles, applications and INNOVATIONS! Furthermore, NRG Innovations prides themselves on producing high quality products.  They feel whether you're a sponsored vehicle, an everyday enthusiast, or in house project, you should be receiving the same high quality product. Every single product is put to the test so they can consistently bring you the strongest, and highest quality.  
NRG Innovations catalog is extremely diverse.  When browsing through you will find components such as; Wings/Spoilers, shift knobs, floor mats, seat belts / safety harnesses, lug nuts, hood pins, catch cans, quick release, steering wheels, seats, strut tower bars, suspension kits, and much more! 
NRG Quick Release
Quick releases have become very popular over the past several years.  The history behind them is they were first used in race cars. They allowed the driver easier access to get in and out of the car.  This saved many lives in emergency situations. Many people who track / race their vehicle still install them for this exact reason. Many enthusiasts also decide to install quick releases for esthetic purposes, especially when they compete at car shows.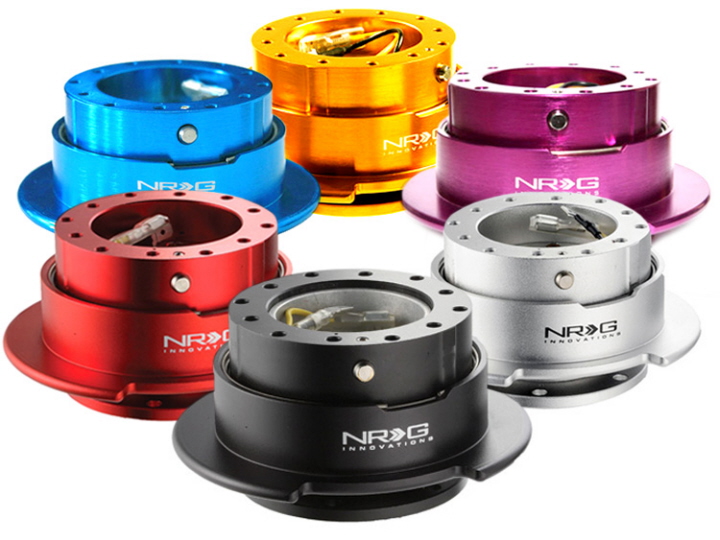 NRG Innovations has developed the Next Racing Generation in quick releases. They have new units that feature many options that conventional ball-lock quick release systems do not offer. Those features include specially designed raised sections to prevent the hub from stretches, a self locking mechanism for ease of use and safety functions. Additionally NRG offers these quick release in a variety of different colors, and color combinations.  
Lastly, all NRG quick release systems are made from the highest quality aircraft aluminum, or powder-coated stainless steel. These two materials allow for maximum durability. They are built to last, remain stylish, and have functional usage as well!

Generations
When browsing through NRG's catalog you will find over 10 different types of quick releases available.  They range from generation 2.0 – 4.0. Each generation has a slight difference / added benefit. 
Overall, every generation will provide an added safety benefit, as well as style to your cockpit. Some differences between generations include a pyramid ring, available colors, upgraded spring mechanisms, reduced weight, different ring components, and improved ring paddles. Some systems are also designed more specifically for race applications. Stay tuned for a future article which will break down each generation more specifically. 

NRG Short Hub
When looking to install a quick release to your vehicle you will also need a short hub. A short hub is an adapter that is needed to complete your set up. They allow an aftermarket steering wheel, with the quick release kit, to mount in the same location. They allow the new set up to not be too close to the driver as well. Short hubs are also made from the highest quality aluminum.

Final Words
Whether your looking to add a quick release hub for safety purposes on track day, or add some new style to your vehicle for the next car show, you can't go wrong with NRG Innovations. Their large selection of high quality components is sure to have something for you. Their multiple color options allow you to really showcase your ride.