April 15, 2020
Spyder Auto Projector Headlights
Who is Spyder Auto?
For nearly a decade, the Spyder Auto group has been serving the auto industry with high quality automotive components. They are a leading manufacturer of aftermarket lighting, tuning, and styling auto parts in the U.S.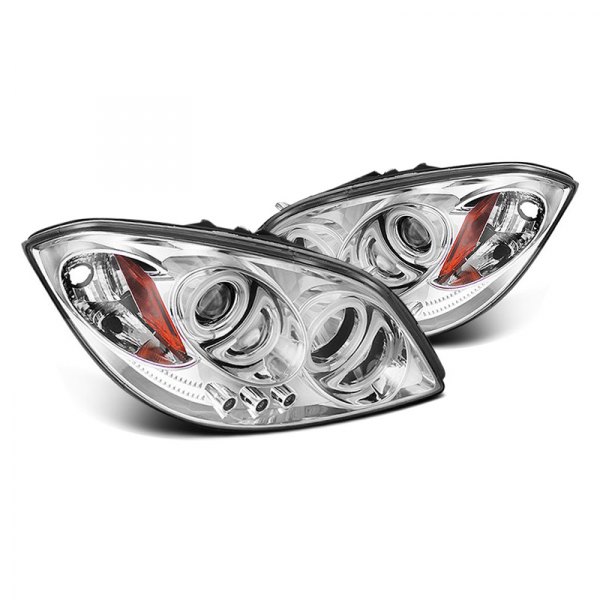 As enthusiast, when we first get our vehicle generally think of two things; How can I improve my vehicles performance, and how can I set my vehicle apart from the next? Luckily with their extensive catalog, your able to customize your vehicle according to your style and preference Spyder Auto sells and distributes products such as: Projector headlights, Crystal headlights,Tail lights and Fog lights. They are constantly expanding our application line to provide the latest products that this industry has to offer.
Projector Headlights
Projector headlights from Sypder Auto will benefit your vehicle in several ways. First and foremost, you will gain superior illumination. You can expect better vision at night, and in inclement weather. This is accomplished because the bulb in a projector headlight is positioned in front of an elliptical-shaped reflector. This reflector reflects the light towards a single focal point in front of the bulb, vs.  a conventional parabolic type reflector reflects light outward in a dispersed pattern. Projector headlights produce a sharper, more focused beam of light with less scatter loss. All of this increased light and clarity results in increased vehicle safety.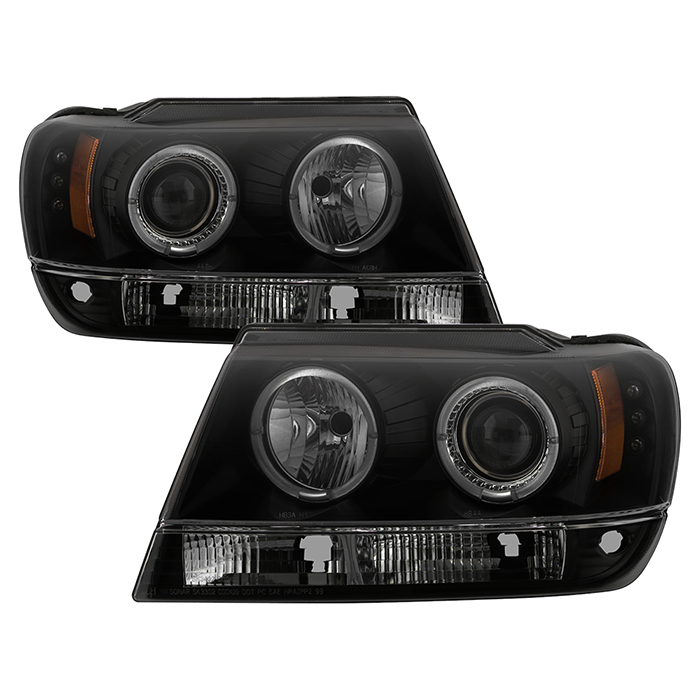 Another benefit of Sypder Auto Projector headlights is their LED's! Without the need for a large parabolic reflector, the stylists at Spyder have used the increased space within the headlight housing to include many bright LED lights. LED lights are the most advanced form of lighting. They're extremely durable, with an average lifespan of 30,000-100,000 hours. Additionally, LED lights produce a brighter, cleaner light. This will continue to increase your vehicles safety and driving experience.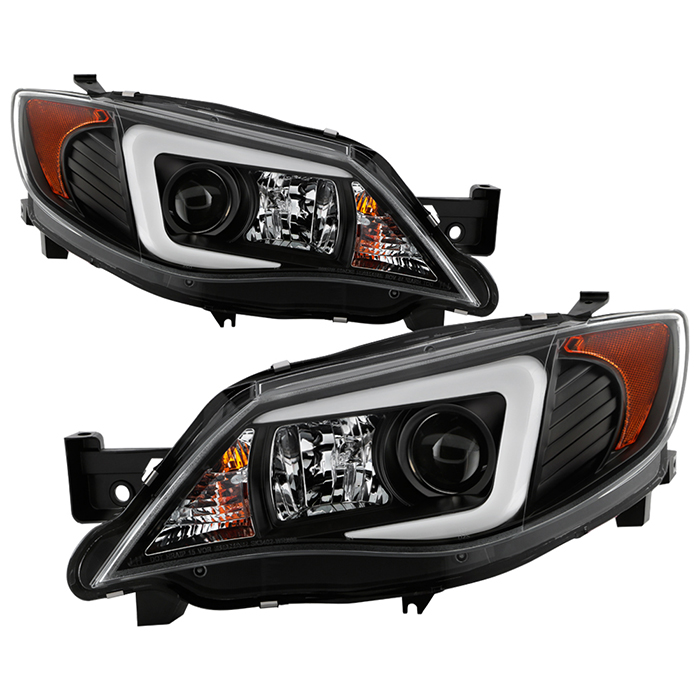 Styles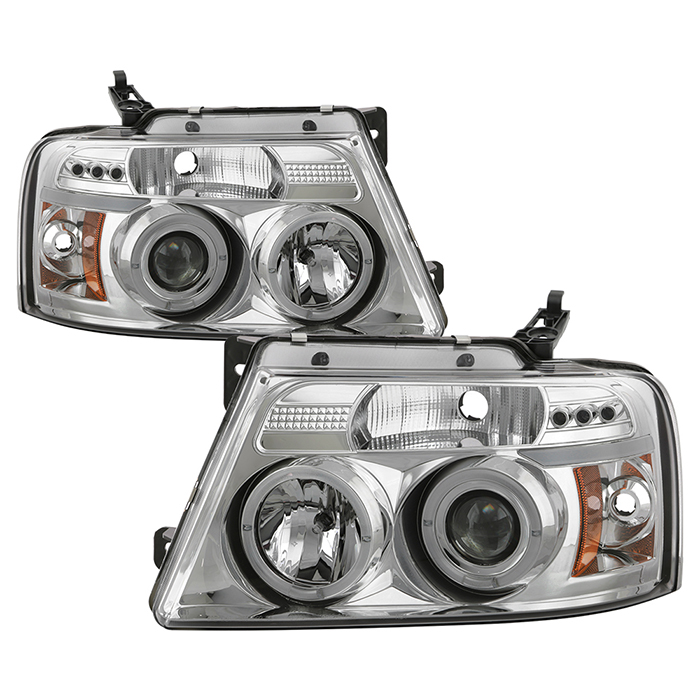 Projector Headlights are available in multiple styles. Factory style headlights are identical to the  original unit in every way; same quality, same method of installation. It will mount the same way and look and function exactly the same as the original. They also offer Black/Smoke LED Projector headlights. These headlights offer black housing, and smoked lenses, allowing you to gain a more aggressive look. You will benefit from the increased illumination, and increased visibility. If smoked out headlights isn't your style, you can opt to go with a Chrome LED projector headlight, which features chrome housing. Your options are truly endless when browsing their catalog.  This allows you to find the exact look you're going for with your vehicle!  

Quality
Every Spyder headlight undergoes a rigorous testing and quality control process before it leaves the factory. All wiring undergoes testing to make sure the light is completely functional. The housing is sealed with high quality silicone to ensure that no moisture can become trapped inside. Furthermore, lighting products offered by Spyder Auto are compliant with all applicable federal regulations. Unless otherwise noted, all products are D.O.T. Compliant and satisfy Federal Motor Vehicle Safety Standards (FMVSS) code no. 108 and are not only ISO-9000 certified but also ISO-9002 certified.  As further proof of regulation compliance, their products are also approved by the Society of Automotive Engineers (SAE).
Installation
Spyder headlights are designed to replace your factory lights. However, some electrical wiring work may be required. Most lights come with detailed instructions to guide you through the installation.
In Conclusion
Having your vehicle operate safely during low lighting is extremely important. Spyder understands that importance which is why they developed such a superior product. Their concern for public safety, and extreme style is why they're a leading manufacturer of aftermarket automotive lighting. So what are you waiting for? Make the switch today and enjoy night driving once again!