April 24, 2020
Flowmaster Exhaust System
About Flowmaster
Since 1983, Flowmaster is the company you can trust, and has led the industry in offering only the best products you can buy. Flowmaster manufacturers high performance exhaust system, mufflers, cold air intakes, turbo boost modules, catalytic converters, and more. Their numerous vehicle components are available for late model vehicles, trucks, off-road, SUV's, Jeeps, classic muscle cars, powersport vehicles and more.
Flowmaster Exhaust System
For decades, Flowmaster has been committed to delivering the best automotive exhaust products to the market and being "The Exhaust Technology Company." Their mission has always been to bring you the highest quality exhaust products through innovation, advance manufacturing experience and dedication to customer service.
Every exhaust system will have one thing in common – quality. They are manufactured using the up-to-date equipment to reach the level of precision you deserve. Every system is made from the top-quality stainless steel to ensure durability you can rely on. Many of their systems feature mandrel bent tubing which allows for reduced restriction, resulting in increased power. More importantly, every system is easy to install! Each system is custom made to fit your SUV, Jeep, Truck, classic muscle car, or sport compact perfectly. Most importantly, a Flowmaster stainless steel exhaust system is covered by a Limited Lifetime Warranty; ensuring that your exhaust will last as long as you own your vehicle. However, if you choose aluminized steel products, Flowmaster backs them up with a 3-year warranty.
A Flowmaster exhaust system produces an iconic deep performance tone. Choosing between the five different exhaust systems allows you to customize your vehicle based on your personal taste. All the five series of systems are tuned for maximum performance. They differ in technology and tuning, resulting in a difference tone and character. This allows you to pick a performance engine sound to your personal liking. As you read on you will see the differences between each system, and what type of sound you can expect.
Flowmaster FlowFX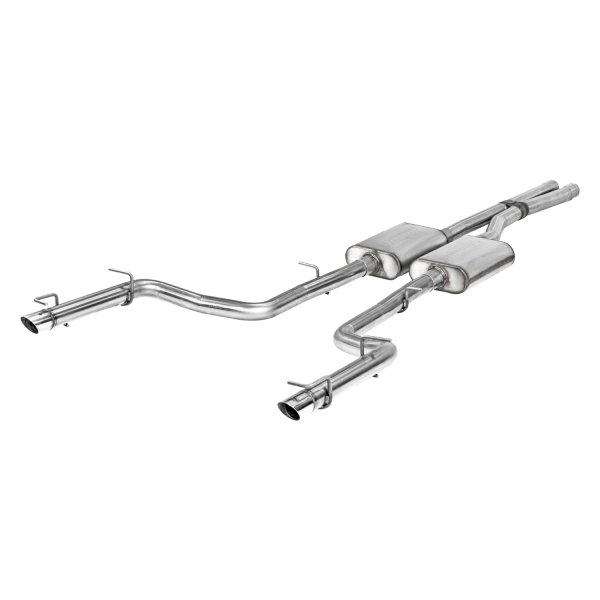 Flowmaster's new FlowFX straight-through mufflers with a large core for maximum performance and a deep, aggressive sound. The system uses a Scavenger X-Pipe cross-over and mandrel-bent tubing for maximum performance and then is finished off with stainless steel tips that exit within the rear bumper valance. Built from 409S stainless steel, with mandrel bent tubing. More importantly, this system is backed by Flowmasters Lifetime Limited Warranty.
Flowmaster American Thunder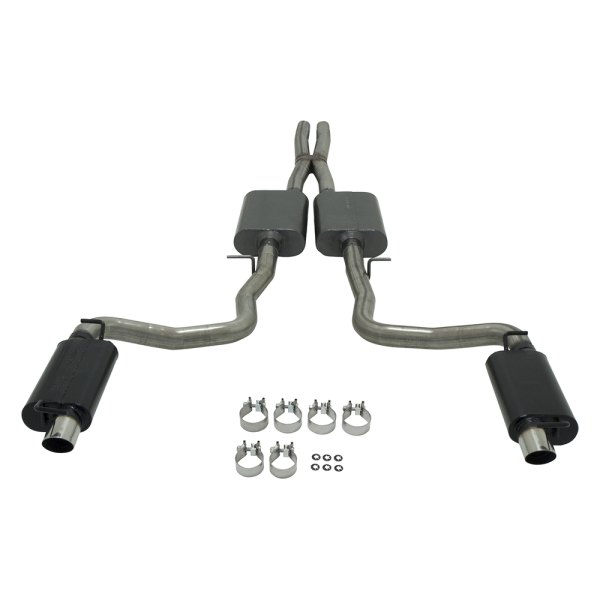 American Thunder is the most popular of the Flowmaster exhaust systems, enhancing power, torque, throttle response and mileage.. Depending on the application, American Thunder can give you the Mild-Moderate Sound / Moderate Sound / Aggressive Sound / Moderate-Aggressive Sound / Mild Sound of a Flowmaster chambered exhaust. This is the classic sound of classic American big performance engines. This is a system that gives the most sedate vehicle a performance rumble. American Thunder is perfect for a wide range of cars, from ponies to sleepers.
Flowmaster dBX
The dBX Series produces an exhaust note with the same moderate sound or mild-moderate sound, deep tone. Featuring the same great acceleration sound as the American Thunder system but at a lower decibel rat. This is a perfect system for smaller performance vehicles. The dBx system is designed from 304 Stainless steel and features mandrel bent tubing, as well as a Laminar Flow muffler.
Flowmaster Outlaw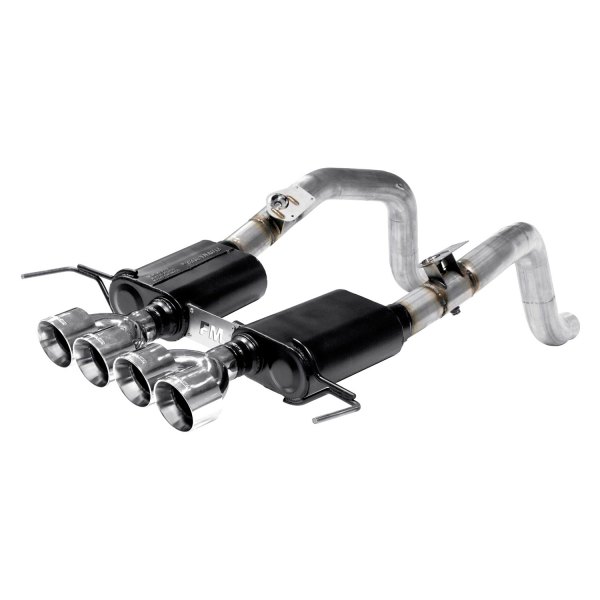 The Outlaw System gives you an aggressive sound, moderate sound with a rumble. Although the Outlaw is loud, it has a deep pleasing tone that most people, appreciate. In some states you actually could be outside the legal limits with this system. Its' important to check your local laws when purchasing. This system features race-bred components that ensure minimal restriction and only slight reduction on sound over open exhaust tubing. If you desire the ultimate in aggressive sounding performance, an Outlaw Series system could be right for you.
The Force II Series
Depending on application, The Force II Series is designed for a mild, moderate, or mild – moderate performance tone experience. This suitable for everyday street driving or for long distance commuter driving. The character of the exhaust sound still has the deep, rumbling tone but at a more subdued decibel level. The Force II system features mandrel bent tubing that will aid in increased power, torque, responsiveness and mileage.
Final Words
In conclusion, when you equip your vehicle with a Flowmaster exhaust system, it is sure to get noticed wherever you drive. Designed to deliver maximum performance combined with the sound you love you won't be disappointed. Their high quality will keep this system performing for you for years to come.