May 14, 2020
The history of Belltech
It all began in 1983 as a small company in Fresno, California. During this time Fresno had become a haven for lowered vehicles and trucks. Belltech realized trucks were being lowered but the suspension systems were terrible and not very roadworthy. In many situations the springs were either replaced with new ones not meant for the application, or being cut/heated with a torch at a local muffler shop. The look was achieved but the ride was terrible! That's when the idea to build the "best performing" lowering suspension for the Chevrolet pick-up truck began.
Belltech's staff came up with a better idea; Build a spindle where the wheels are higher but all of the rest of the front end geometry stays the same. This easily helped launch the sport truck craze in America. They knew aside from the drop spindle, the rest of the trucks suspension needed to be addressed as well. Shackle Hanger kits, Lowered Coil Springs and Flip kits soon followed. Their high quality components and superior materials and designs easily made Belltech the most asked for and successful truck suspension brand in the industry.

Moving Forward
As time went on, more enthusiast entered the sport truck craze. Soon Ford, Dodge, and import truck owners wanted to join in on the look and style. Belltech understood the demand for their high-quality truck suspension and began a whole new line. Belltech designed and created suspension components for these applications. As a result, their company grew significantly.  
Not only did their product line expand for vehicle makes and models, they realized there was another suspension factor to be considered. Belltech took a look at the suspension dampening system, also known as your shocks. Stock shocks worked well with the stock suspension but by changing the ride height the shock geometry was affected. That's when they developed the Nitro Drop Shock line, and then later on developed the Nitro Active shock line. We will further cover those specific shock lines in a later article. What we will say now is these shocks further improved ride quality.

Belltech Today
Belltech had great success in the 1980's and 1990's. This success made it possible for their company to grow into a larger manufacturing facility with a satellite warehouse. In 2015 they moved into a 75,000+ sq ft operating location in Clovis, California. This facility made it possible to expand every aspect of their operation.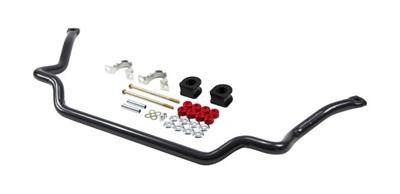 With the additional space now for both Engineering and R & D, it became possible to create and develop new products more efficiently and timely. Some results of this include development of new products for the GM Silverado and Colorado, GMC Sierra and Canyon, as well as the Ford F150.
Products Available Today
Belltech offers an extensive product line today. We will cover each component in more depth in a future article.
In Conclusion
No matter what your lowered truck suspension needs are, Belltech is there with products to satisfy your every desire. Compromised ride quality is a thing of the past. Enjoy the best of both worlds and enjoy your ride and style with Belltech suspension components.