June 1, 2020
BORLA Performance Industries
Who is BORLA?
For over 3 decades BORLA Performance Industries' is a leading manufacturer of stainless-steel performance exhaust systems. Beginning with systems for "concours classics" such as Rolls-Royce and Ferrari's they have evolved to supplying todays performance vehicles for the street, track, and off-road.
Why Choose BORLA?
Millions of exhaust systems are replaced every year due to corrosion and poor performance. Your automotive exhaust gases are a mix of carbon monoxide, oxides of nitrogen, unburned hydrocarbons and moisture. Eventually, over time these gases condense and attack the system internally. Then on the exterior you have elements such as corrosive salts, moisture, and mud that contribute to deterioration. Lastly, you have equipment vibration, high temperatures, emission control requirements, damaged and uneven road surfaces which can damage your exhaust system. BORLA Performance Industries recognized all of these issues and built a system to withstand them. With BORLA exhaust systems you can finally install a long-lasting exhaust system, that's backed by a million miles guarantee.
Quality
BORLA is committed to providing world-class exhaust products which surpass the expectations of their customers. Their company facility is complete with a state-of-the-art testing and development center. This facility allows them to continuously improve their manufacturing efficiency and standards.
BORLA exhaust systems are built from aircraft-quality austenitic stainless steel. Their exhaust feature stainless steel on the outside AND the inside. Many other manufacturers feature aluminum on the inside, and stainless-steel on the outside for show. Aluminizing can somewhat prolong the life of mild steel, but coatings suffer at the weld points. When comparing T-304 stainless steel to aluminizing steel, it is like comparing gold-plated metal to solid gold.  T-304 stainless-steel has the highest chromium content, making it the most resistant to corrosion. That alone makes it the most desirable material for a long-lasting exhaust system. (Note: Only the flanges are not stainless. In their twenty-year experience, BORLA has found the 3/8″-1/2″ flanges are so thick they will never affect the performance or longevity of the system.)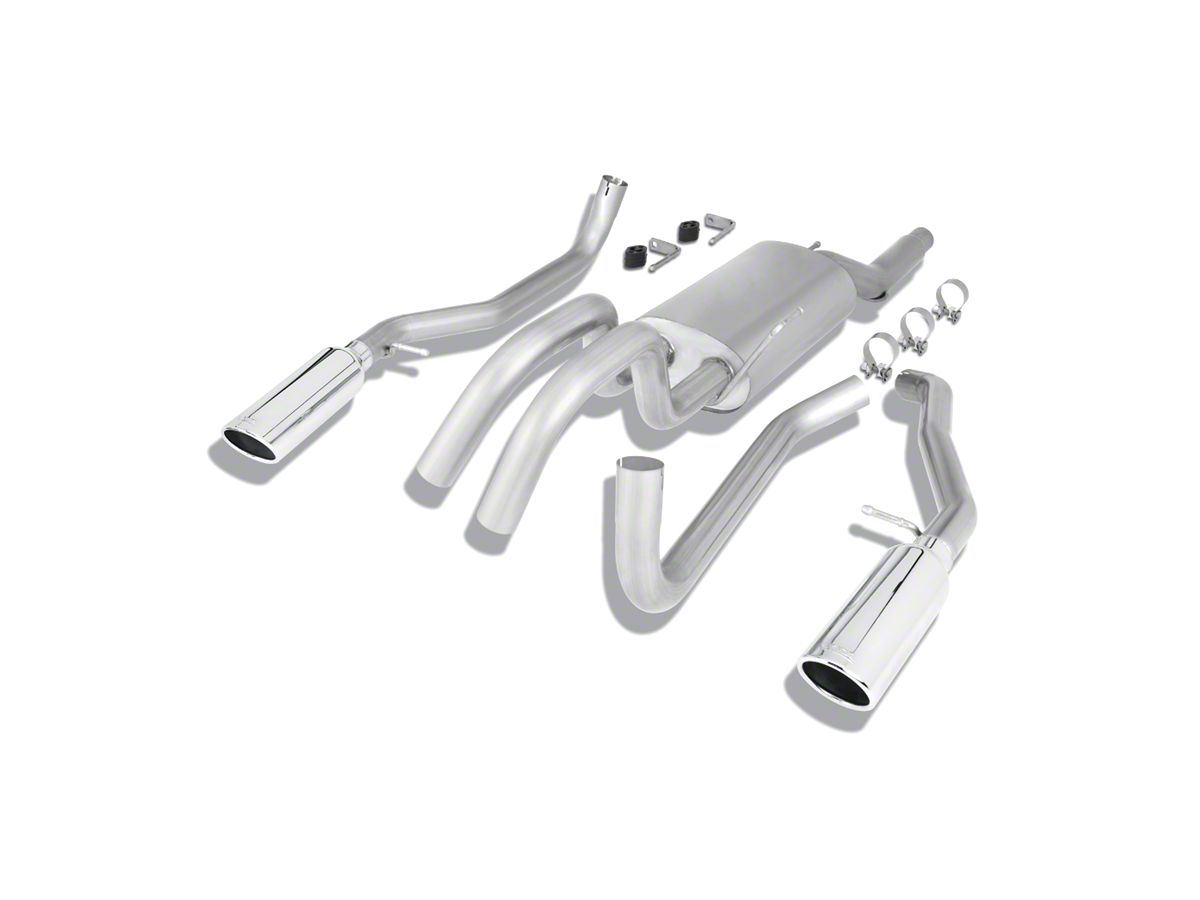 Lastly, every BORLA Cat-Back™ system features mandrel-bent tubing, all-welded construction, and is designed for accurate fit and easy installation.
Performance
The performance advantages of BORLA are widely recognized. That's why top engine builders in the racing world rely on BORLA exhaust systems for maximum performance. BORLA is at the forefront of the movement toward responsible racing with their full line of patented, award and race-winning racing mufflers. These mufflers not only maintain a race engine's power, but in some instances actually add power. This technology is incorporated into BORLA exhaust for the street, providing 7-10% increased horsepower and torque when you plant your foot. You can also expect improved gas mileage at cruising speeds.
Choosing the right performance exhaust
Choosing the right performance exhaust can be confusing. With so many different types available, and manufacturers the options are essentially endless. Many enthusiasts and manufacturers have a common misconception that "bigger is better", and opt to go with very large diameter piping. BORLA has found for street use, big pipes just take energy out of the exhaust, both by slowing down exhaust gas velocity and by cooling off the gases. While exhaust may leave the port at 1500 degrees or more. By the time it reaches the tailpipe it's down to 150 degrees. That's a big a sign energy has been lost. When it comes to real performance making factors, velocity and uninterrupted flow are key. Furthermore, it is the low frequency range that has energy (the sound you can feel inside the car); big pipes increase the low frequencies, making an uncomfortable roaring or droning sound. A BORLA exhaust system, on the other hand, is designed for less restriction, keeping the velocity and frequency high so the main sound is behind the tailpipe.
Keep an eye out for a future article of breaking down each type of BORLA exhaust available.
Accomplishments
Alex Borla, co-founder of BORLA Performance Industries holds several US patents for innovative exhaust system technology. Additionally, the company has won numerous "Best New Product" awards in the industry.
Installation
It is recommended to have your BORLA professionally installed; however, if you choose to do it yourself, anticipate approximately two hours for a system install.
In conclusion
Whether you have an import, SUV, Jeep, Truck, or classic muscle BORLA has got you covered. Offering unsurpassed technology and are built to last. They are so confident in their product they back their street exhaust with a Million-Mile Warranty. More information about their warranty can be found here.