June 8, 2020
About Mishimoto
Mishimoto is a world leader in performance cooling parts. Established in 2005, they have over a decade of experience in providing superior cooling system upgrades for many vehicle types. Their staff is full of knowledgeable automotive enthusiasts who are committed to providing the highest quality-products. To learn more about Mishimoto, click here.
As we go on in this article we will discuss Mishimoto Intercoolers. But first lets talk about how intercoolers work.
How do Intercoolers Work?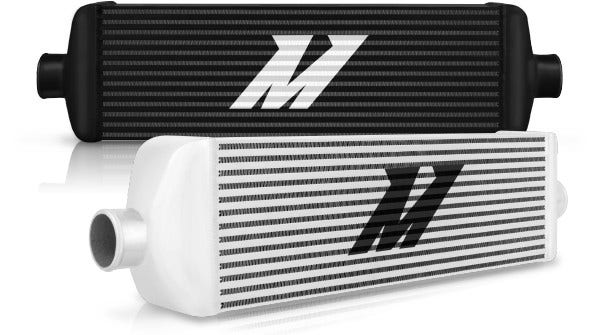 An intercooler is an intake air cooling device commonly found on turbocharged and supercharged engines. Air is compressed by your turbo/supercharging, causing it to get very hot, very quickly. As the temperature begins to climb, the oxygen content (density) drops. That's where the intercooler plays its role. It cools the air compressed by the turbo/supercharger. By reducing the temperature of this air it provides a denser, more oxygen rich air to the engine. As a result, you can will have improved combustion allowing more fuel to be burned. Furthermore, your vehicles reliability will be improved as it provides a more consistent temperature of intake air to the engine. This allows the Air Fuel Ratio (AFR) of the engine to remain at a safe level. AFR can be monitored through gauges.
Mishimoto Intercooler
Mishimoto has designed several high-performance intercoolers. Manufactured from 6061 aluminum with precision, and feature TIG welding for increased durability.  Mishimoto Performance Intercoolers are able to lower temperatures greater than your stock unit.  This temperature reduction may range based on vehicle type. Additionally, you can expect an increase in core volume, and an increase in external fin surface area. Depending on your vehicle type, and intercooler choice your core volume, fin surface area can range, and temperature reduction can range. We have listed several examples below.
Chevrolet Camaro 2.0T 2016+ – Performance Intercooler Kit 2″ thick intercooler design optimized for maximum airflow with minimal pressure drop
25°F (14°C) reduction in AIT
61°F (34°C) temperature drop over stock intercooler shown during heat-soak torture test
45% increase in internal core volume & 239% increase in external fin surface area
78% increase in core size
Bar-and-plate construction
Subaru WRX Street Performance Top-Mount Intercooler 2015+ Drops intercooler outlet temperature by 34°F over stock unit
12% increase in flow
76% increase in core volume over stock
81% increase in external fin surface area
100% aluminum construction with fully cast end tanks
Bar-and-plate core designed for maximum cooling and minimal pressure drop
Honda Civic 1.5 T/ SI Performance Intercooler Kit 2016+ Max power gains of 4 whp and 8 ft-lbs torque on stock tuning
Increased core size of 102% and fin surface area by 97%
Drops outlet air temperatures by 20°F on the stock tune, and 42°F with performance tuning
Optimal core design for maximum cooling efficiency with minimal pressure drop
30% increase in size over stock intercooler piping
Universal Intercooler by Mishimoto
Not only does Mishimoto offer direct fit intercoolers, you can also opt to go with a universal fit. Universal intercoolers provide the ideal cooling capacity for any small or large turbo application, while safely increasing horsepower and giving that extra boost that every driver appreciates.
Style
When shopping with Mishimoto many of their intercoolers are available in black, silver and gold. This allows you to not only increase your vehicles performance but its style as well.
Warranty
When you make a purchase with Mishimoto, you can expect top-quality products that will last a lifetime. Mishimoto Automotive warrants all its products under its "no questions asked" limited lifetime warranty policy. Unlike other companies, cars or trucks involved in accidents are also backed by accident protection. If you would like to learn more about their warranty, click here.
In Conclusion
Mishimoto has an intercooler that is just right for everyone. Not only are they dedicated to quality and precision tuning, but to a superior looking product that will please every car enthusiast. So what are you waiting for? Check out their catalog!