September 13, 2020
Bully Dog Performance Parts
Who is Bully Dog?
Bully Dog began in American Falls, Idaho in 1998 as an enthusiast business focused on improving diesel engine performance. Since then, the brand has grown drastically. They are known for leading-edge engine ECU calibration, high-quality aftermarket parts, and precision data-logging & monitoring technology. With a talented and well-rounded team of designers, engineers, quality control professionals, salespeople, and customer support staff, Bully Dog continues to produce innovative technologies that make use of advances in mobile computing, Wi-Fi & Bluetooth communication, cloud computing, and performance monitoring to deliver unparalleled performance.
Products Offered by Bully Dog
ECU Programmers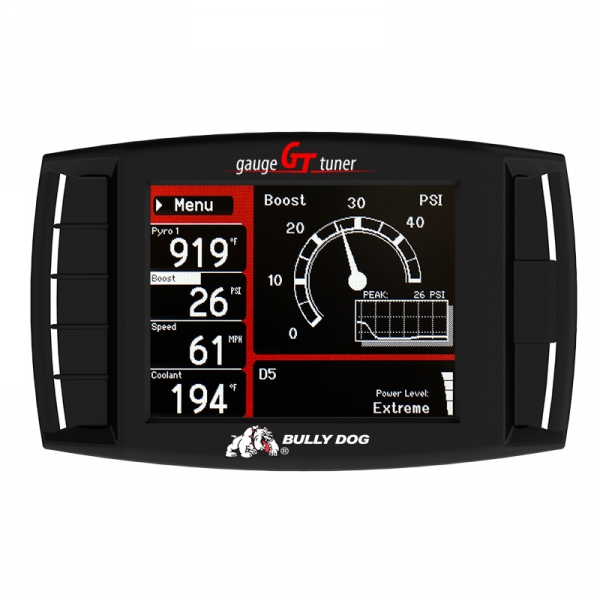 First and foremost, Bully Dog is well known for their ECU Programmers. They are at the forefront of performance ECU calibration technology for gas and diesel vehicles. For vehicles looking to add performance, tackle tough terrain, haul heavy payloads or tow trailers over long distances Bully Dog has got you covered. Their calibration software platform adjusts key performance parameters to better respond to the unique demands you put on your vehicle. Whether you want to adjust for tire size, axle lockers, throttle sensitivity or shift firmness Bully Dog has programmers that can accomplish this.
Their Programmers provide easy installation. Their advanced handheld programmers means quick, out-of-the-box access to better performance, added safety and improved fuel economy.
To learn more about their programmers, click here.
Air Intake Systems
Bully Dog's Air Intake Systems delivers cold, dense air to the vehicle's engine, easily outperforming OEM air intakes. You will gain additional horsepower, torque and fuel efficiency after installation. Bully Dog's enclosed intake system keeps hot air out of the intake stream by targeting cold air sources and specifically designed to optimizing airflow.
All Bully Dog's Rapid Flow CAI systems come with the industry's highest quality filter. Thus, performance is guaranteed. Their air filters are manufactured under ISO 5011 specifications to ensure quality. Additionally, they design their air filters with more surface area than any stock application. Overcompensating for air filter surface area helps guarantee air flow and will also extend the time needed between necessary filter maintenance.
Performance DPF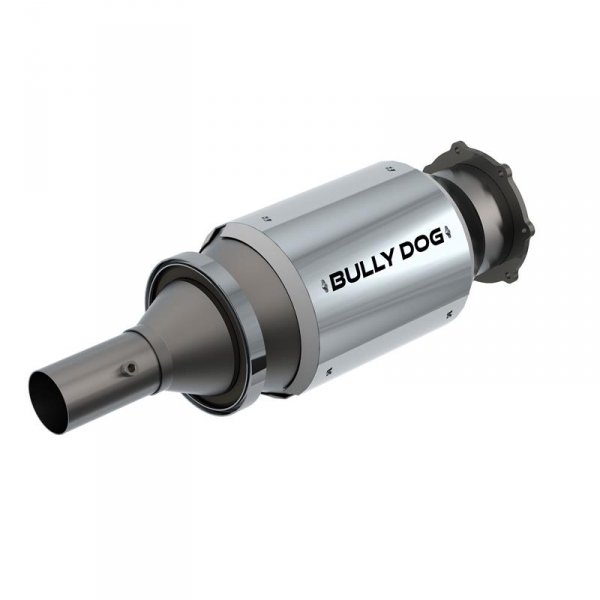 Bully Dog's new Performance Diesel Particulate Filter (DPF) is the industry's first emissions-compliant aftermarket stock replacement. It features a high-quality all stainless-steel construction and a high-tech proprietary coating. The DPF's high-flow design is flow bench-tested to increase air flow by up to 21%.

Additionally the performance DPF slows soot accumulation, reduces EGTs by up to 12%, and reduces backpressure by up to 44%. Their advanced design offers fewer regenerations and keeps your diesel at peak performance between regen cycles. To alleviate the maintenance challenges that owners face with DPFs, the Performance DPF is designed to be accessible and fully serviceable. This is much different than a stock DPF. Cleaning and servicing is a breeze: access the filter element via a stainless steel v-band flange.
Final Words
If you're looking to take your vehicle to the next level, a Bully Dog product can help take you there. Whether you go with a ECU Tuner, DPF, an intake system, or all three! – Your vehicle's performance gains will be evident. So, what are you waiting for? Head on over to the full catalog of Bully Dog products here.