November 4, 2020
So you've got a Ford F-150 but now your wondering how can you make it more bada**? We've compiled a list of the top 5 upgrades for a Ford F-150 and some top manufacturers who can help you achieve greatness!
Intake
A Performance air intake is an easy beneficial upgrade to any vehicle.  A Performance air intake will allow your vehicle to "breathe" more efficiently.  These systems allow more air to be drawn in vs. factory intakes.  The more air your F-150 takes in, the more combustion.  The more combustion you have, the more power. Not only will performance air intakes assist with power gains, they can help you achieve better sound and gas mileage. Depending on how you intend to use your vehicle; daily driving, towing, off roading, the recommended intake may vary.  To learn more about performance air intakes, click here.
Luckily there are many manufacturers who developed air intake systems for enthusiast who like to push their trucks to the limits. Two great manufacturers for your Ford F-150 would be Volant Intakes as well as AIRAID.
Volant
If your looking for a company that specializes in aftermarket intake systems for trucks, SUVS and jeeps then you're looking for Volant. They are extremely dedicated to providing products that will fit your driving style. They made it their mission to enhance your driving experience, on and off-road. Volant introduced a closed-box intake design to the market.  A closed-box design is a fully enclosed filter box.  This box helps block heat. Additionally, it allows for maximum filtration protection in harsh environments. To learn more about Volant Intakes, click here.
AIRAID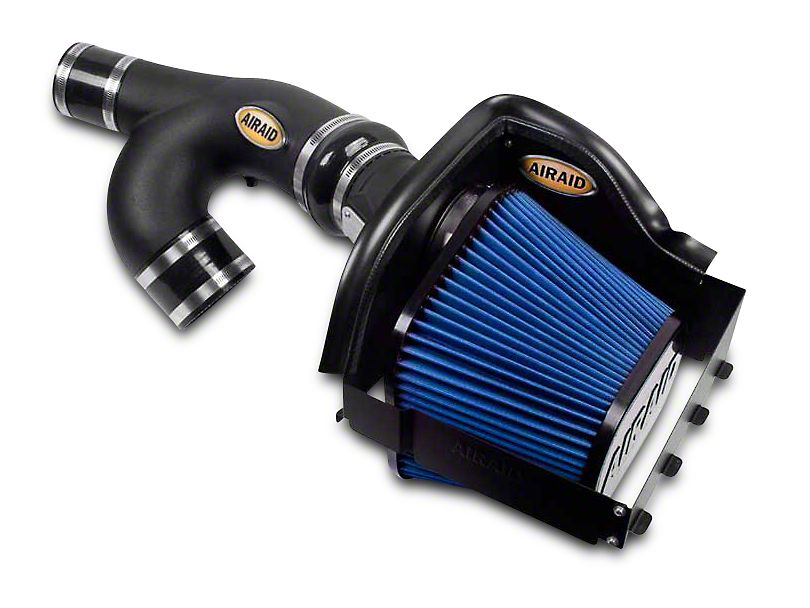 If you're an enthusiast who loves the rugged outdoors, then AIRAID products are perfect for you.  AIRAID manufactures aftermarket performance products for those who love powdery snow slopes, off-road mudding, sand dunes, and even drag strips. They have options that will get you through every terrain. Every system features aerodynamically engineered intake tubes.  These tubes are designed to accelerate airflow to your engine and reduce turbulence.  As a result this increases your vehicle's performance. Each system also comes with a washable, reusable air filter. To Learn more about AIRAID, click here.
Tuner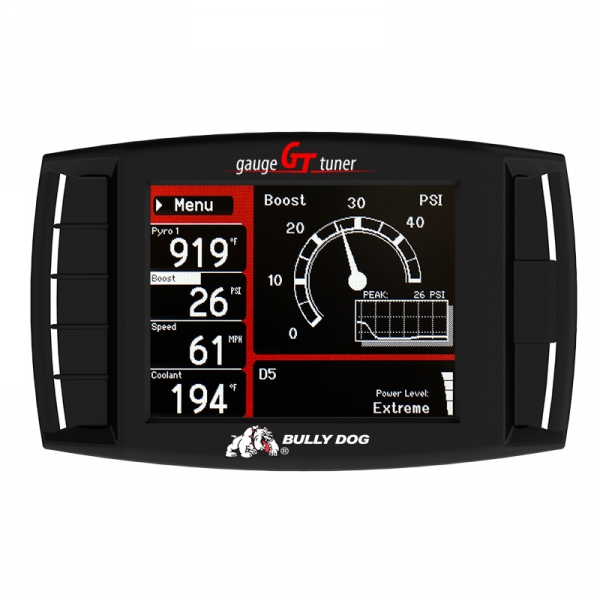 If you're looking to gain more power with your Ford F-150 then installing a tuner would be a great first step. Bully Dog programmers allows you to tap into your onboard computer and allow you unlock your vehicles true potential. Most of the units come pre-installed with tunes for your vehicle. These tunes will help you gain back your missing power. Additionally, the programmers allow you to have insight to whats going in with your vehicle with its 5″ touchscreen display. The display screen allows you to monitor your vehicles perimeters in real time. All Bully Dog programmers also have the capabilities to do data log. To learn more about Bully Dog Programmers, click here.
Lift Kit
Adding a lift kit to your truck can give it a more aggressive look you may be craving. A lift kit may provide additional benefits aside from just style. Many systems, like the ones from EIBACH, offer increased protection to harsh environments. This is due to being made from high quality components vs. factory.  Upgrading to a lift kit can also aid in reduced nose dive, increases load handling capabilities and control.
In the future we will be covering some lift kits in more depth for trucks, SUVS, and jeeps. In the mean time you can check out our catalog here.
Exhaust
Lets face it, we all LOVE that extreme rumble coming out of a truck. Hearing your beast roar has a whole different level of satisfaction. By upgrading your Ford F-150 exhaust you can easily gain quality sound, as well as increased performance.
FLOWMASTER
Flowmaster is committed to delivering the best automotive exhaust products to the market and being "The Exhaust Technology Company." Their mission has always been to bring you the highest quality exhaust products through innovation, advance manufacturing experience and dedication to customer service. They have a large line of products available for many makes and models of trucks, SUVS, and jeeps. Every system, no matter your vehicle type, is made from the top-quality stainless steel to ensure durability you can rely on. Many of their systems feature mandrel bent tubing which allows for reduced restriction, resulting in increased power. To learn more about Flowmaster, click here.
MAGNAFLOW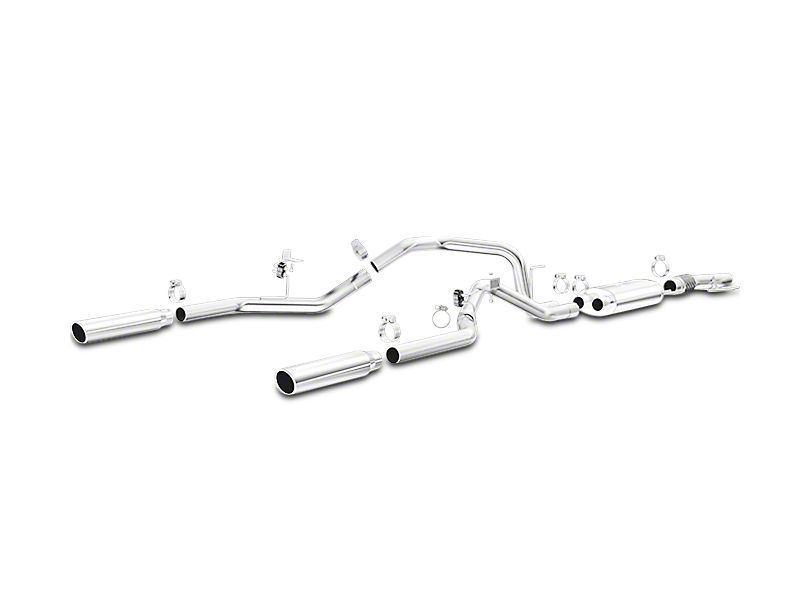 Magnaflow is another great option for your Ford F-150. Quality, Power, & Sound is the motto Magnaflow lives by. This slogan has led the company on its steady path to success. They have been in business for more than 30 years, and is a market leader in exhaust systems. No other brand has managed to fulfill the demands auto enthusiast have on their exhaust systems, while still complying with emission standards. Their exhaust systems have first class workmanship, and extreme attention to detail in both design and fabrication.  The stainless-steel pipes in a Magnaflow exhaust system are mandrel bent, keeping their shape through the bends to avoid obstructions to the gas flow. The free-flow mufflers feature smooth necks, and a straight-through, perforated stainless steel tuning pipe. This high quality system is a huge reason why many enthusiast turn to MAGNAFLOW for their exhaust upgrades. To learn more about them, click here.
Exterior Upgrades
When upgrading your Ford F-150, you may want to start with some exterior upgrades. Some very popular exterior upgrades include
Mud Flaps
Tow Hitches
Upgraded Grilles
Fender Flares
Some great companies who can help you achieve this look include T-REX, Rough Country, B&W Hitches, and Warn Industries.
In Conclusion
No matter what you decide to choose from our Ford F-150 top upgrades, one of these will surely make you fall in love with your truck even more! The options are truly endless in the aftermarket world, and the upgrades only begin here!