May 23, 2021
About Borla
For over 3 decades BORLA Performance Industries' is a leading manufacturer of stainless-steel performance exhaust systems. Beginning with systems for "concours classics" such as Rolls-Royce and Ferrari's they have evolved to supplying todays performance vehicles for the street, track, and off-road. To Learn more about Borla, click here.
When looking for a new exhaust system, it's nice knowing each system by Borla is custom designed for specific application. This helps them provide you with the most horsepower, torque, and high-quality sound. They have several series of exhaust systems, each slightly different. As we continue on in this article, we will be covering their Touring Exhaust system further.
Borla Touring Exhaust System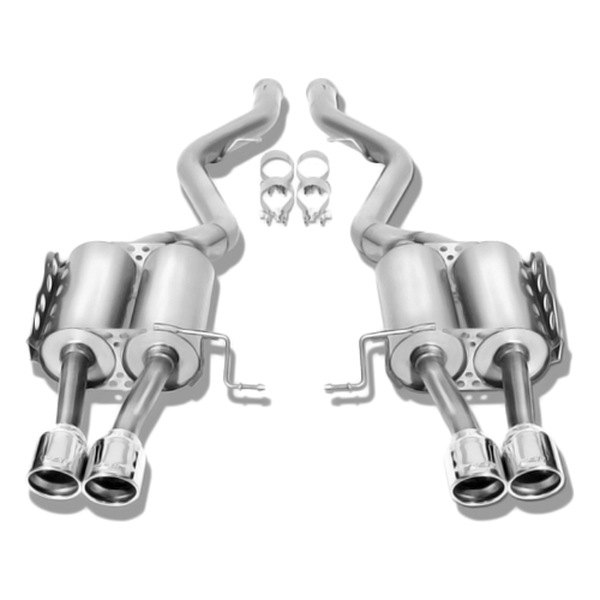 Borla custom designs each exhaust system for the specific application, to make the most horsepower and torque with the best sound quality. The patented straight through muffler design reduces restriction and increases exhaust gas velocity, making sure each cylinder is completely evacuated to make room for the incoming charge. This design absorbs the sound waves without disturbing the power waves, in contrast to the chambered mufflers used by most aftermarket companies. Chambered mufflers use partitions or baffles to subdue sound waves, which also creates back-pressure and reduces power. The Touring series muffler has more interior capacity for a higher volume of sound absorbing composite filament.
The shape and diameter of the exhaust tubing is optimized for volume and exhaust gas velocity. Borla mandrel bends the stainless steel tubing for smooth bends and to make sure the pipe maintains its size and shape throughout the entire length. Tubes that aren't mandrel bent can lose a percentage of their diameter in sharp bends. This system features an "X" pipe, where the pipes behind the catalytic converter include a crossover junction. This junction reduces excessive back-pressure created by close firing cylinders on one bank, allowing it to escape to the other side of the system, thereby improving low and mid-range torque.
But improved performance is only part of what you want in an aftermarket exhaust system, because all the horsepower in the world won't matter if it doesn't sound right. There's no need to worry with a Borla System. They have many years of automotive acoustical experience and the company is staffed with automotive enthusiasts just like you that listen and drive cars to make sure your system has the right sound to go with the power. The Touring system has a slightly louder than stock sound at cruise, but with a deeper note; like adding bass to your sound system without increasing the volume. And there's no annoying drone or resonance through the cabin.
The Borla Touring Series Stainless Steel Cat-Back Exhaust System comes complete with everything required for installation, including detailed instructions. Borla is so confident in the quality of this system that it's guaranteed against defects in materials and workmanship for one million miles.
Features:
Increases horsepower and torque
Better fuel economy at cruising speeds
Custom designed for each application
Patented straight-through muffler design reduces back-pressure while absorbing sound waves
Mandrel-bent stainless steel tubes
Made from the finest austenitic stainless steel for long-lasting durability
All welded construction
Includes polished exhaust tips
Includes everything required for installationBacked by the exclusive Borla Million-Mile warranty
Made in the USA
Quality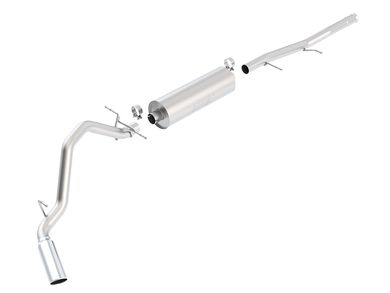 No matter which exhaust system you decide on, you can rest assured when purchasing an exhaust system from Borla quality is always top notch. Borla uses austenitic stainless steel for their systems. This stainless steel contains high levels of nickel and chromium, to resist corrosion. This material is harder than the lower grade stainless steel often used by the OEM manufacturers. The muffler contains a stainless-steel perforated tube wrapped with several layers of stainless-steel sound absorbing material. Furthermore, it features a layer of ceramic sound absorbing, high temperature material, all contained in a fully welded stainless steel shell.
In Conclusion
If you're looking for the best performance, highest quality, and the best sound then Borla is the way to go. Whether you opt to go with the Borla Touring Exhaust system, or another one of their iconic exhaust you won't be disappointed! With Borla, you'll get the power and sound you want, with quality materials and construction that will make it last!