September 6, 2021
Jeep Wrangler Off-Road Upgrades
Jeep Wranglers are famous for their durability as well as their versatility. They have been a favorite amongst enthusiast for decades, and will continue to be a top pick in the industry for more to come. Adding aftermarket accessories to a Jeep Wrangler is a right of passage of sorts into the Jeep world. The Wranglers unmatched off-road capabilities make it well suited for a host of modifications that have the potential to take the Jeep to the next level of performance. Depending on how you intend to use your Jeep will ultimately determine which upgrades are right for you. Whether you're an extreme rock crawler, or just want your vehicle to stand apart while daily driving there are tons of upgrades available for you. The options are truly limitless when it comes to customizing your vehicle, however this list will highlight some Jeep Wrangler Off-Road Upgrades.
Body Armor
Body Armor is a great way to add a unique look to your jeep, and add increased protection to its body. It can easily give it a more aggressive look with body armor panels available for many different parts of your Jeep Wrangler. Aside from that, if you love to off-road your vehicle the body armor help protects against the elements you may encounter.
Icon Body Armor for Jeep Wrangler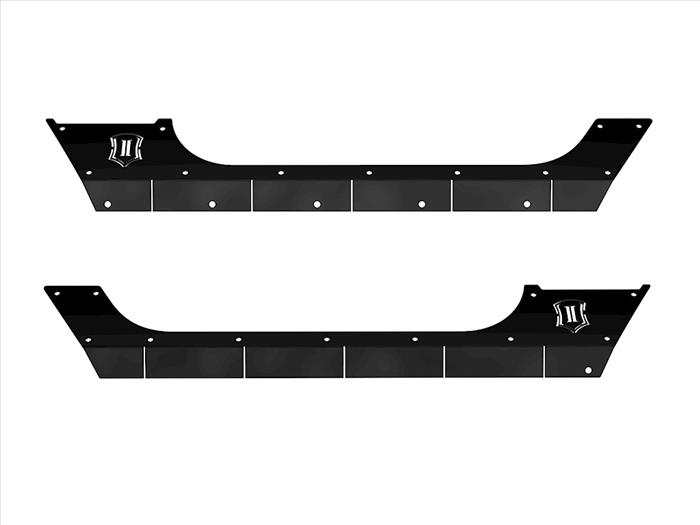 Protect your Jeep Wrangler JK's vulnerable rocker panels on the toughest trails with ICON Impact PRO Series Body Armor & Slider Kit. The two-piece design is both functional and stylish, providing rock armor protection while imparting a rugged off-road appearance to your Jeep. These rocker guards are fabricated entirely of 3/16″ thick plate steel that has been CNC laser cut and precision brake-formed to fit your Jeep's body like a glove. The Body Armor piece attaches directly to the Jeep's body, protecting it from rocks and dings around the door sills. The rock slider piece attaches to the Body Armor to provide a defensive railing to slide against the rocks and keep your Jeep's doors and body sides a safe distance away from damage. The sliders are internally gusseted along their entire length, and feature a series of lateral bends that both increase rigidity and gain a measure of ground clearance. The sliders attach to the body armor with stainless steel hardware, and tie in to the Jeep's body mounts underneath, to form a super-strong, rigid structure to withstand abuse from the toughest trails. A series of lightening holes both enhance the looks and allow for easier washing out of mud, debris and road salts. The PRO Series Body Armor & Sliders are finished in a durable semi-gloss black multi-stage powder coat. Wheel with confidence knowing that ICON Impact products are covered by ICON's Limited Lifetime Warranty.
Key Features:
Two-piece design combines body armor protection and rock slider functionality
Ties in to the Jeep's body mounts at the frame to provide a rigid structure to withstand punishing trails
Rock slider also functions as a step to assist entry into lifted Jeeps
Bomb-proof 3/16″ thick plate steel construction, CNC laser cut and brake-formed
High clearance faceted design with internal gussets for brute strength
Durable multi-stage semi-gloss black powder coat finish
ICON Impact Series Limited Lifetime Warranty
Winches
Winches are a great addition to any vehicle that loves to off-road or tow. When in a pinch, like being stuck in the mud a winch can easily help get you out of that situation. By attaching the cable or chain to a rock, or a tree you can easily help pull yourself out. The most important thing when adding a winch to your vehicle is making sure you purchase the appropriate weight capacity.
WARN Winches
Warn Industries offers a complete line of hard-working electric and hydraulic winches and hoists. These are ideal for commercial, industrial, and severe-duty applications.  With Warn industries, no matter the application, you can be assured you will get the job done. With many weight capacities available, your sure to find exactly the winch you need.
2000 DC 12V ELECTRIC WINCH – 92000
Although this winch might be smaller in size, it's big on value. The WARN 2000 DC Utility Winch has all of the features you'll want. It's small size allows it to be mounted in tight spots. Designed to pull lighter loads, this winch will help you move more material in less time.
2,000 lb. (907 kg) capacity with plenty of power for smaller jobs
12-volt power for portability – ideal for use on trailers or hitch mounts
Outstanding duty cycle, durability, and features
Strong 1.6 horsepower permanent magnet DC motor with outstanding duty cycle
35′ of 3/16″ (10.7m of 4.7mm) wire rope with hook and clasp
Remote plug accepts 12′ (3.7m) corded remote (included)
Ergonomic, multi-directional clutch lever
Durable, differential planetary geartrain
Dynamic braking for great control and holding power
Hawse fairlead
Limited 1 Year Warranty
Suspension
Jeep Wrangler Lift Kits
A lift kit on your Jeep Wrangler comes with several benefits, especially if you like to hit the off-road terrain. By increasing your ground clearance you're able to conquer more terrains. You'll be able to worry far less during your off-road adventures where larger rocks, logs or other obstacles are common. Not only is it great for off-roading situations, but every day driving as well. Those pesky speed bumps wont feel as harsh, and your vehicle will handle most bumps, curbs and crossing railroad tracks much better.  Additionally, higher ground clearance offers a better view for the driver to see what lies ahead.
Tires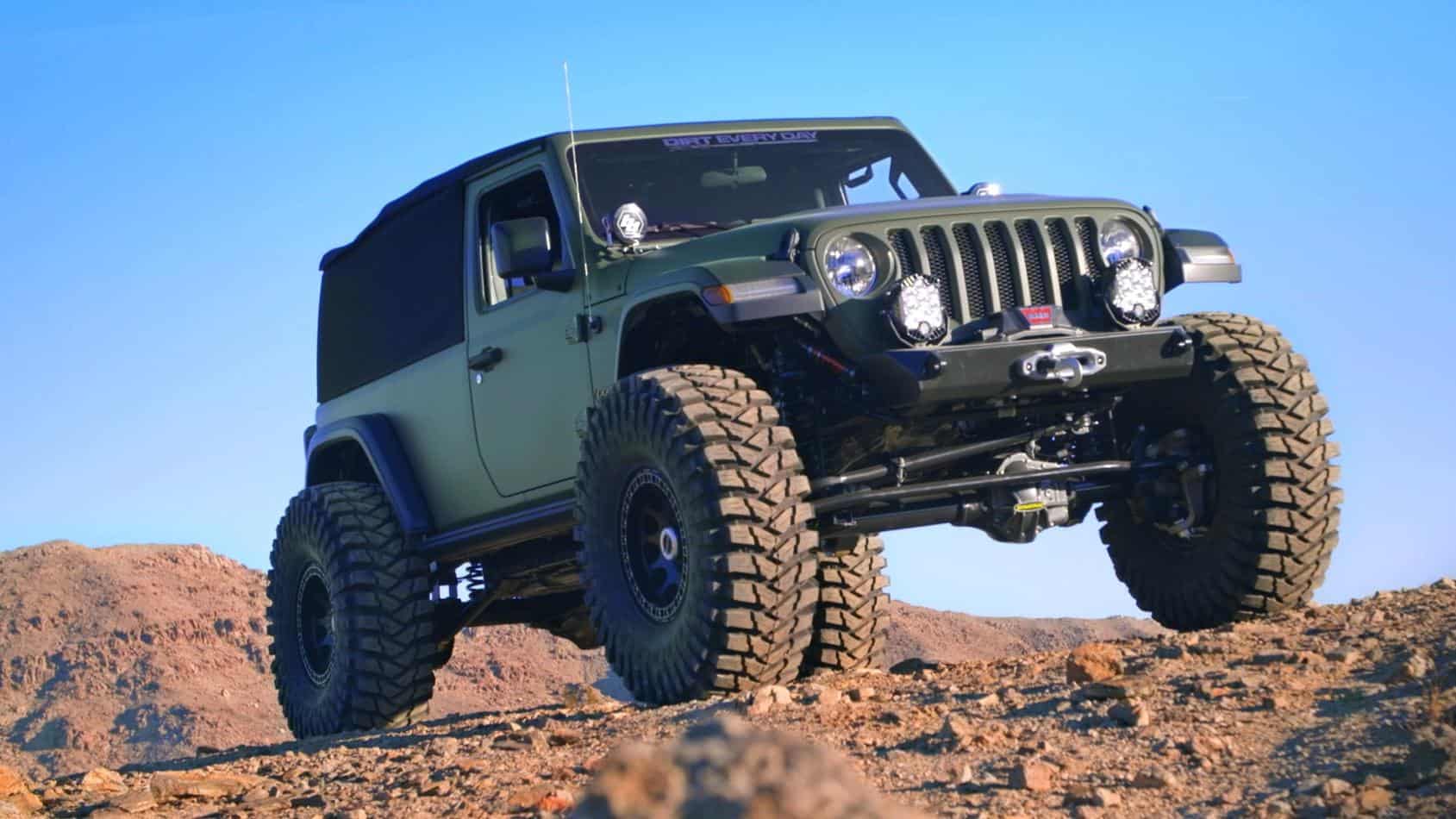 Once you do a lift kit, the next general upgrade to follow is Tires. Choosing a tire that is designed for your type of use and the terrain that you plan to encounter is extremely important. The thing that matters most is that you really analyze where you will be taking your Jeep and how you plan to off-road to determine which tire is best suited for your needs. Keep that size does matter but not in the way you are thinking – smaller is often better. If your Jeep is going to spend most of it's life on pavement with a few off-road trips here and there, adding a massive tire that requires a lift and other upgrades may look good but won't really give you the best value for your money when it comes to upgrading your Jeep. However if you intend to lift your Jeep, it often makes sense to upgrade from your stock tires when you make that transition to ensure that you are choosing a tire size that will work well with your lift and is designed for the use you have planned. You can always speak with your shop that is doing the lift for their recommendation on which tires you should run.
Light Bar
A light bar helps you see further into the distance and will light up wide areas and dense woods. Depending what mount / brand you go with you can mount the light bar to your roof, windshield or front bumper. LED options are great due to their long life and bright light.
Final Words
There are so many more options beyond just what we covered above. If you're looking to start modifying your Jeep Wrangler then these Off-Road Upgrades are a great way to start!
Stay tuned for more articles with tips for Jeep Wrangler Upgrades!