About Hasport
Hasport Performance is a leading manufacturer of motor mount, and vehicle accessories. As an industry-leader in performance products, quality and craftsman ship is of the upmost importance. They are chosen by engine builders, and those looking to make big power with their vehicle! They credit this success to their research and engineering.  It has allowed them to build their innovative, and sought-after products.
Hasport offers superior products exclusively for Honda & Subaru enthusiast. Whether you have an accord, civic, WRX or a STi, they've got you covered. Each part, no matter your vehicle make, is designed with the latest solid software. Additionally, each motor mount is crafted from 6061-T6-billet aluminum for light weight and impeccable durability. They are CNC machined in their state-of-the art manufacturing facility.
Performance Motor Mount
Motor Mounts, also known as engine mounts, are designed to secure your vehicle's engine and transmission to the sub frame. Motor mounts are intended to absorb vibration and shock. They ensure that you are unable to feel any movement of the motor.
Aftermarket Motor Mounts are designed for the more aggressive drivers, and professional racers. Aftermarket mounts are designed to prevent lateral engine movement and excessive engine twisting. This comes practically into play when a heavy pressure clutch is used in your manual vehicle. To learn more about the benefits of performance motor mounts, click here.
Why Hasport?
We've already covered some of the basics why Hasport is a great company to purchase performance products from. Now let's further dive into why they make a superior motor mount.
First and foremost, Hasport Motor mounts are ideal for racing and high-performance engine applications. They help enhance the performance of your vehicle due to their lightweight, and durability. Keeping your engine vibration down, and preventing engine movement you're able to continue laying down the power where it belongs, in the street!
Construction
Their motor mounts also feature laser cut venting, which allows plenty of cooling for your alternator. With slotted mounting features, it gives flexibility for tweaked factory brackets. They also have drive-by-cable dimples, which are hidden on the bottom face. Dimples locate holes for cable mounts where needed.
Finishing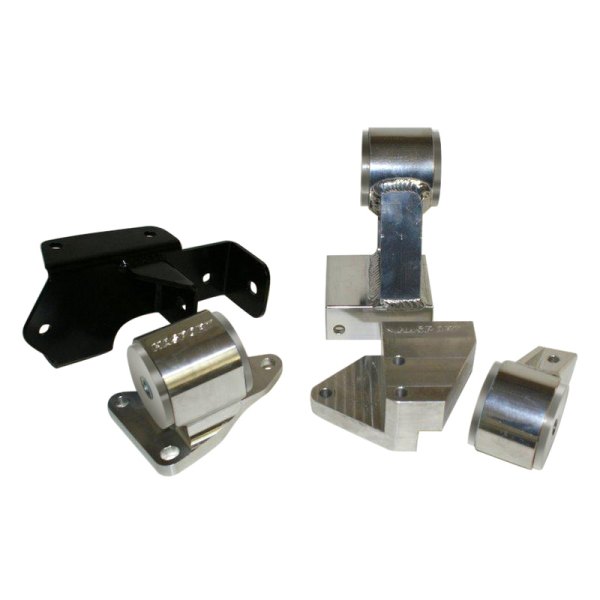 The CNC Machined aluminum mounts are anodized black for a sleep look, and corrosion resistant. The Heavy Duty DuPont powder-coat keeps a durable finish and helps resists discoloration.
Motor Mount Types
When browsing through their catalog you will notice 3 different mount types. These mount types are reflected numerically. They are 62A, 70A, 88A.
62A – Street
This is the softest and most street suitable of the 3 options. If you're just looking for enhanced drivability this is the option to go with. It is not suggested to use this mount for track use.
70A – Race
This mount type is the perfect combination of performance and durability. It's great for aggressive street use, and light track use.
88A- Extreme Race
This mount is the most aggressive. It is built exclusively for track use, not street. If you have a vehicle that is specifically used for racing conditions, this is the mount to go with.
In Conclusion
Redefine your driving experience and equip your vehicle with Hasport Performance Motor Mounts. Lay your power down safely by keeping your engine secure and in place.