Jeep Wrangler Top Upgrades
Jeep Wranglers are famous for their durability as well as their versatility. They have been a favorite amongst enthusiast for decades, and will continue to be a top pick in the industry for more to come. Adding aftermarket accessories to a Jeep Wrangler is a right of passage of sorts into the Jeep world. The Wranglers unmatched off-road capabilities make it well suited for a host of modifications that have the potential to take the Jeep to the next level of performance. Depending on how you intend to use your Jeep will ultimately determine which upgrades are right for you. Whether you're an extreme rock crawler, or just want your vehicle to stand apart while daily driving there are tons of upgrades available for you. The options are truly limitless when it comes to customizing your vehicle, however this list will highlight some Jeep Wrangler Top Upgrades.
Jeep Wrangler Soft Tops
First up for Jeep Wrangler Top Upgrades we have Soft Tops. Jeep soft tops are a common sought after upgrade in the Jeep community. There's several reasons why people look to make this upgrade.
Versatility
Given the malleable nature of soft tops, they're intrinsically more versatile than their harder counterparts. They can easily be removed and then installed again making it easy to go without a top during those nice weather days without much effort.
Easy Storage
A soft top can be folded and stored easily in small spaces. Hardtops can take up a lot of space in your garage, finding room to store a soft top is largely an afterthought.
Convenience
Imagine you're taking advantage of your Jeeps trail-rated off-roading capabilities with no top on. You're connected to nature and enjoying the outdoors, but then nature's darker side approaches overhead. With an incoming storm, you can easily put the soft top back on the Wrangler before the heavy rains hit, keeping you and the interior nice and dry.
Affordability
If budget is your primary concern, the soft top is a clear choice. Many leading manufacturers have soft tops starting as low as $200.
Some leading manufacturers of Jeep Wrangler Soft Tops include Trail FX, Bushwacker, and Rampage.
Jeep Wrangler Lift Kits
A lift kit on your Jeep Wrangler comes with several benefits, especially if you like to hit the off-road terrain.
Ground Clearance
First and foremost, you will gain higher ground clearance. This allows you to worry far less during your off-road adventures where larger rocks, logs or other obstacles are common. Not only is it great for off-roading situations, but every day driving as well. Those pesky speed bumps wont feel as harsh, and your vehicle will handle most bumps, curbs and crossing railroad tracks much better. Additionally, higher ground clearance offers a better view for the driver.
Towing Capacity
A Jeep Wrangler has an average towing capacity of 2,000 to 4,000 pounds. This means it can handle towing pop-up trailers, hybrid trailers, Airstreams, and teardrop trailers. As I said, Jeep Wranglers can be pretty sturdy, but even with its weight capacity, it does have its limits. Adding a lift kit may help with these limitations, and protect your vehicle. When you have a lifted vehicle, you can expect better performance in towing, handling and traction. This is because lift kits do not place as much stress on the shocks and suspension when towing. As a result you experience improved capacity and an overall safer towing process.
Appearance
The added height definitely gets added attention. Lifting your truck can give your vehicle your own unique look, especially depending on how high you intend to go. Additionally most lifted trucks feature larger tires which give a more aggressive look. Larger tires provide much better handling and traction in hazardous road conditions as compared to standard tires.
Some leading manufacturers for Jeep Wrangler Lift Kits include Eibach, Rancho, and Ready Lift.
Tires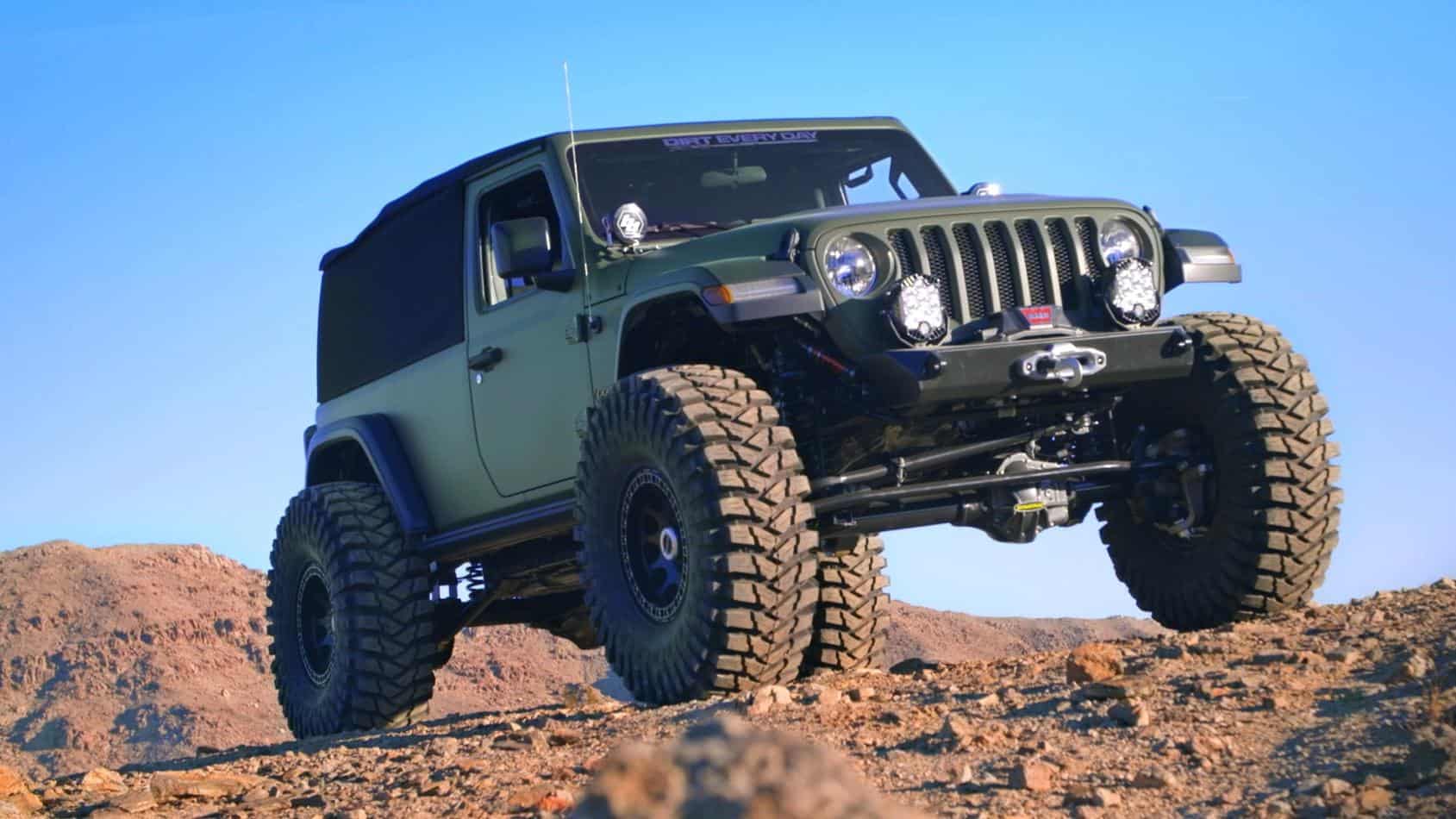 Once you do a lift kit, the next general upgrade to follow is Tires. Choosing a tire that is designed for your type of use and the terrain that you plan to encounter is extremely important. The thing that matters most is that you really analyze where you will be taking your Jeep and how you plan to off-road to determine which tire is best suited for your needs. Keep that size does matter but not in the way you are thinking – smaller is often better. If your Jeep is going to spend most of it's life on pavement with a few off-road trips here and there, adding a massive tire that requires a lift and other upgrades may look good but won't really give you the best value for your money when it comes to upgrading your Jeep. However if you intend to lift your Jeep, it often makes sense to upgrade from your stock tires when you make that transition to ensure that you are choosing a tire size that will work well with your lift and is designed for the use you have planned. You can always speak with your shop that is doing the lift for their recommendation on which tires you should run.
Air Intake Systems for Jeep Wranglers
Another no brainer when it comes to Jeep Wrangler Top Upgrades is your Air Intake System. If you're an enthusiast who loves the rugged outdoors, then the upgrading your Air Intake System is a must. Air intake systems are a perfect upgrade for those who love powdery snow slopes, off-road mudding, sand dunes, and even drag strips. Your factory air intake system is restrictive, and don't allow efficient air flow into your vehicle. They are also are not designed to withstand any harsh environments, or elements you may come across. Upgrading has many benefits, no matter your vehicle usage.
Leading manufacturers of Air Intake Systems for Jeep Wranglers include AIRAID, and K&N.
Front Bumpers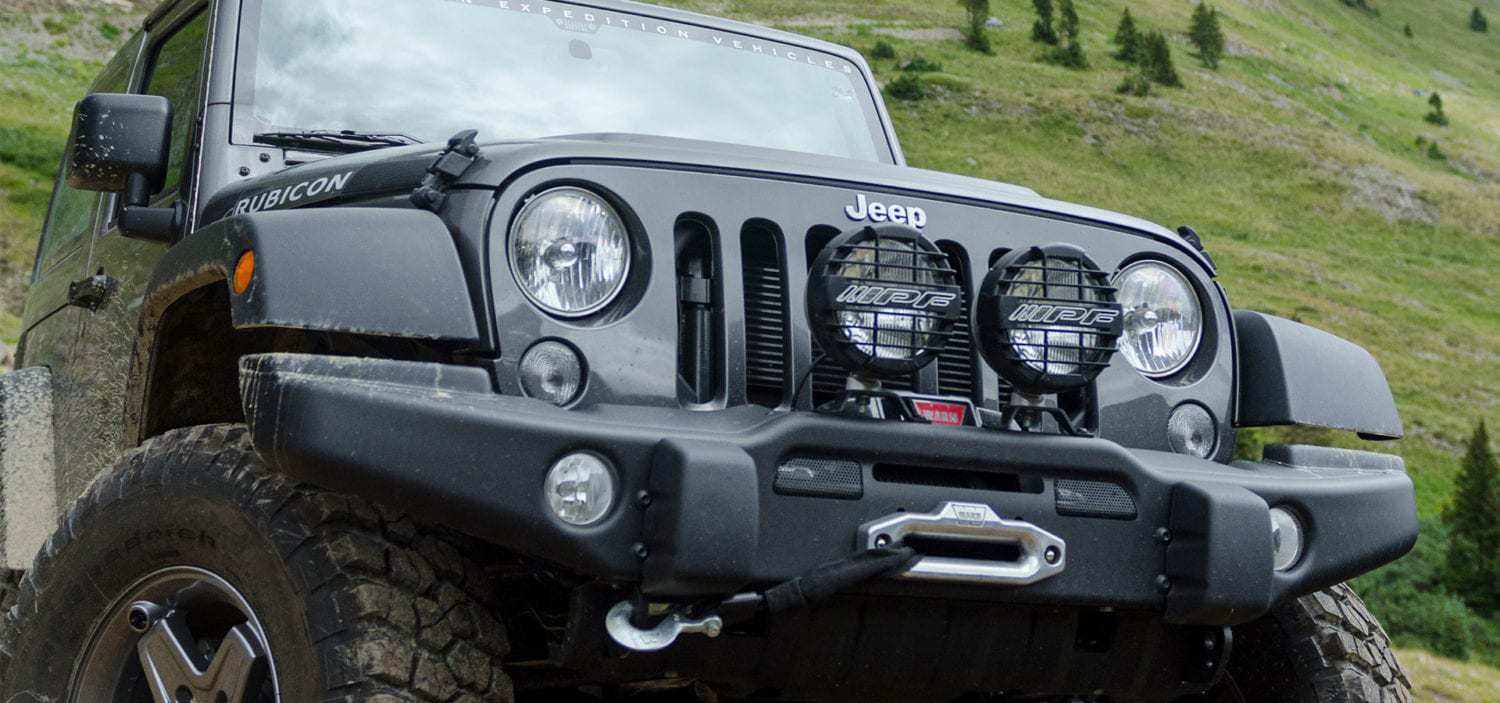 Adding a well built set of bumpers truly adds an incredible amount of protection when off-roading. Bumpers often called Bull Bars throughout the globe offer a variety of benefits. Here's some reasons why its on the list of Jeep Wrangler Top Upgrades.
Increased Protection
Quality bumpers are built with impact in mind, so they are designed to provide added protection when compared to your factory setup. Often while off-road your bumper is going to be the first thing to touch the ground or scrape against an obstacle, which will keep your rig from being damaged
Increased Mounting Points
Whether you are looking to just add in reinforced tow hooks, or you are looking to winch or mount a light bar, an aftermarket front bumper is going to make your life a lot easier. Not only are most designed to house and protect your winch but they often come with additional mounting points for other accessories.
Jeep Wrangler Winches
If you love to wheel in snow, sand, or mud regularly then adding a winch is highly recommended. Being able to complete a successful self recovery could be a life or death situation. When picking out a winch make sure to research the reputation of the brand and understand what their warranty is. Additionally you will need to take a few things into consideration.

1. Knowing the loaded weight of your rig is critical. Purchasing a winch that is under-powered for the size of your rig could make it useless, you need to know how much your rig weighs loaded up with gear and people and take into consideration that when stuck in mud the suction on your rig can significantly add to your vehicles weight.

2. Steel vs Synthetic line: The debate hear could go on for a millennia do your research understand the pros and cons and make a purchase based on what you are most comfortable with & works best for your Jeeps intended use.

3. Training: We highly suggest getting proper training. Winching can be dangerous and taking a training course will not only keep you safe but build your skill set and confidence for when you need it. Here are a few of the top rated winches on the marketplace.
A leading manufacturers of Winches is WARN Industries.
In Conclusion
Although these are just some of the Jeep Wrangler Top Upgrades, the options are truely endless. You can add roof racks, lighting, aftermarket headlights, and more. Deciding how you will be using your vehicle is the first step, and then build your dream Jeep from there!